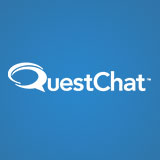 QuestChat
QuestChat is a chat line designed to help attractive local singles in North America make romantic connections over the phone. This line is for you if you are interested in having fun and engaging phone conversations or looking for a hot date. The aim of this chat line is to empower people by allowing them full control over their dating interactions: it is an outlet for single people seeking the excitement of connecting with new and enticing people.
You must be over 18 years of age to call any numbers listed here. Products and services are evaluated independently. chatlineconnect.com does receive monetary compensation from some providers listed here.
How It Works
Step #1: If you want to use the services of QuestChat, the first thing you'll need to do is dial 813-277-9700. This is a toll-free number, and from there you can request to be directed to your local line, if you wish. After receiving your call, QuestChat will set up a pass code and voice mailbox number for you; these two items are completely free of charge.
Step #2: The voice mailbox feature allows you to give other QuestChat users a sense of who you are, and it also gives you a glimpse into who is available for you to date. When you record your voice mailbox ad, describe yourself by elaborating on the qualities you want your potential dating partner to possess as well as the enticing aspects of your personality. The recording is your introduction to other site members and is what will compel them to contact you or call you back.
Step #3: Once you have set up your voice mailbox ad, you can browse and listen to member profiles You will find that a number of different communities are represented on QuestChat. Some users are looking for steady relationships and real love, while others are in search of get-togethers, casual dates, discrete and intimate encounters, and anything else you can imagine. Or, you can dive right into things immediately by entering the site's live chat room.
Key Facts
How much experience does QuestChat have?
QuestChat started its journey way back in 1988, and since then the service has been providing singles the opportunity to meet in a private, fun, and secure way. After achieving tremendous success as a dating service provider for more than 26 years, QuestChat launched a mobile dating app in 2014.
What does the term "phone dating" mean?
"Phone Dating" is a service that connects people through phone calls. As a caller, you can connect with people in your region, throughout North America and also Canada. QuestChat's phone dating service functions by guiding members in creating voice profiles, connecting with other members live or exchanging non-live voice messages with them, and browsing the profiles of other members.
What makes phone dating a better option than online dating?
It's true that online dating enjoys huge popularity around the globe. However, since online dating is impersonal – all the information users get is through images and text – users end up putting in a lot of time and effort only to realize they have no chemistry in the end. As a result, a large number of relationships formed through online dating don't succeed in reaching the offline world. Phone dating is a better option compared to online dating because it's more personal. It allows you to hear each other's voice and have live conversations, but without disclosing your telephone number. Through the intimate medium of voice, you are much more likely to get a sense of whether or not you are romantically compatible with someone.
What's the age requirement for joining QuestChat?
The services of QuestChat are made available only to people aged 18 years or older. When looking for a suitable single on QuestChat, if you feel that a particular member might be underage, report the matter to the site's Customer Service Center immediately.
Is it safe to use QuestChat?
Yes, it's an absolutely safe service. It will keep all your contact information confidential. In addition, QuestChat adopts a series of safety measures to ensure that all its users can concentrate just on having fun, enticing conversations. The site, however, encourages its users to be cautious when sharing personal information with another member or agreeing to meet him/her in person. For first meetings, it is always good to meet in a public place and take things slow.
Is QuestChat's service free?
QuestChat offers both paid and free services. As a first-time caller, you will be allowed to enjoy an absolutely free trial. In addition, you will also get 50% off on your first QuestChat package if you pay using your credit card. On QuestChat, ladies are always allowed to chat for free; however, there's also a Free Male Chat line that allows men to chat absolutely free of cost.
The Verdict
The best thing about QuestChat is that it allows singles to get to know the person they are dating well through voice chats before the two agree to meet in person or exchange contact information. Although the service has a great legacy of just operating as a chat line, it hasn't shied away from making the experience suitable for people of the current generation; for that, they have launched a high user-friendly mobile app compatible both to Android and iOS devices.
The next most promising attribute of QuestChat's service is that it is backed by 24/7 customer support. The Customer Support Center of QuestChat is represented by people with years of experience, so they are experts in troubleshooting.
By allowing new callers to make the first call absolutely free of cost, QuestChat is ensuring that people investing in their service know what they are going to get before making any payment. This shows that the company always wants to be transparent with its operations.
Last but not the least, the service connects you to all kinds of people, some of whom are looking for serious relationships and other individuals who just want to have some fun time, get wild, and more.
More Chatlines Like QuestChat