At-Home Date Ideas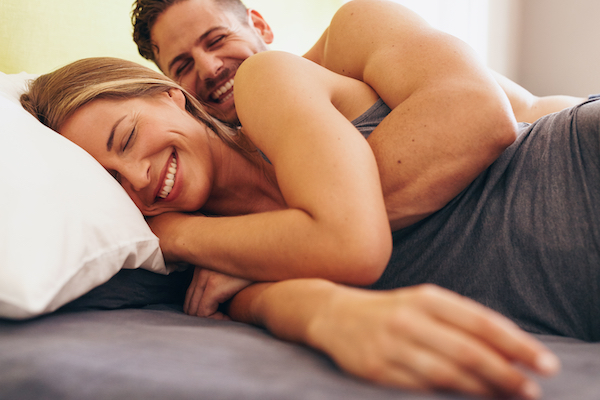 You and your chat line cutie have had your first date together, and it was magical. And, now she wants a second! It's great, but you called into a chat line in the first place because you enjoy the comfort of your own home and likely are a busy guy who needed a phone date to take the edge off. We've come up with some ways to keep your second date low key, but still totally enjoyable.
Staying in for a date might not be as glamorous as hitting the town with your chat line lover, but sometimes it is necessary. It is also nice to be able to spend a night away from other people so that you can focus entirely on her. If you planned a date night but don't necessarily feel like changing out of your comfortable loungewear, why not plan a sweet date night in the comfort of your own home? A plus? You will spend less money and will not have to worry about overindulging and having to call an Uber to get you back home. This way, you can cuddle up and maybe even get her to spend the night. However, continuously dating your chat line partner and not getting too comfortable by routinely spending the night watching a movie on your couch is an important part of any relationship. Here are a few ideas for a special date night in. Get ready to connect in a more intimate setting!
Game Night
Who doesn't love a little friendly competition? Set up a special game night for your girl. Make sure you find out the kind of games she prefers and get everything set up. Have you watched Jeopardy together? Has she ever mentioned a love for charades, a specific card game or lawn games? Has she hinted at the fact that she might enjoy playing a risqué, sexy game with her man? This one would be perfect to use as your "nightcap" before heading into the boudoir. If you aren't sure, you could always set up an obstacle course of a game where you go from one game to the next so that you never spend too long on a game that she may not enjoy as much. If she is a gambler, you could Ross and Rachel the situation, planting yourself firmly on the floor with a deck of cards, some poker chips and a couple of adult beverages. There's no need to go to Vegas when Vegas can come to you! We suggest veering away from any computer or video games for this date night. Make it all about the two of you, all about building a stronger foundation and connection. It is so easy nowadays to go online and purchase a game of corn hole or ring toss. Do your research, sign onto your Amazon account and play the night away!
Cook a Meal Together
We all need to fuel our bodies with some delicious food. Instead of going out to a nice restaurant, why not make the night more intimate and hands-on by making a three-course meal together? Put on some music in the background, open a bottle of red and start chopping those veggies. Make sure to set the ambiance with some beautiful candles and flowers on the table prior to her showing up. Show her that even though you will be cooking as a team, you put effort into the preparation in order for her to feel special and have an amazing night by your side. If you want to go a step further, print out some beautiful menus of what you will be cooking that night. Just make sure you choose something that she would actually want to eat!
Dance the Night Away
Anything you can do out of the house, you can do inside as well. Instead of schlepping to a dance studio, why not bring a dance instructor to your home? Whether you want to learn a bit of ballroom, flamenco or try your hand at the jitterbug, this date night idea will be sure to impress. After your dance lesson, sit down for a nice meal (that you pre-bought or already prepared and laid out nicely) and a cuddle on the couch. After a fun workout and experiencing something new together you might just be lucky enough for her to fall asleep in your arms. An added plus? The next time you two go out you can show of your dance moves!
DIY
Getting sucked into watching YouTube video after YouTube video is far too easy to do. The next thing you know it is 5A.M. and you have work in a couple of hours. Why not put this time to good use and look up some DIY hacks, choose one or two that you know your chat line babe would love to do, gather the materials and build something together? It could be anything from candle making, (and then utilizing the candles while taking a romantic bubble bath together,) to learning how to paint her favorite landscape together. Not only does this show that you care about what she enjoys doing, but it also shows that you listen and are truly getting to know her. You could even watch some videos on how to compose a song and then write a song together about your relationship's journey thus far! That would be oh so cute.
Create Your Own Cocktail
Do you guys like going out to new bars with delicious craft cocktails? Do you enjoy indulging in some adult beverages with your special someone? Why not become more hands-on like you did while making a meal together and create your very own craft cocktail? This is a simple and cost-effective date night idea. Grab some of your favorite liquor, mixers, fresh herbs and berries and set up your very own bar. You can even tie this into the DIY date night by going online and learning how to make your own herb-infused simple syrups. Don't forget to name your cocktail together. You can get very intimate and personal with the name, making the night even more special.
There are endless possibilities for making an at-home date night special for your lady, so get to it!
(If you like this, you'll love Cheap First Date Ideas for Chat Line Partners)