Are You And Your Chat Line Lover Looking For a Third?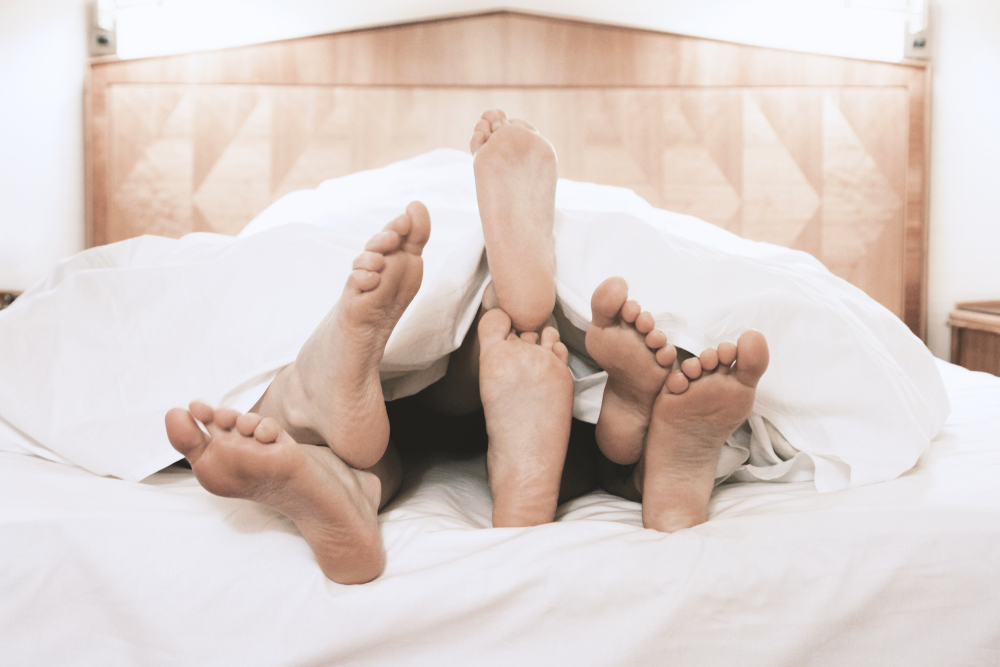 You started dating your chat line girlfriend and your relationship bloomed into a beautiful face-to-face on-the-reg interaction. You go on dates, you spoil her and you are both very happy. However, you have found out that you are both looking for a non-monogamous relationship and you are ready to bring somebody else in on the action. Although you may not know if you want to permanently bring somebody into your already happy relationship, you know that you want to bring somebody else into the bedroom. We are outlining some of the great places to find such individuals. Maybe you will even end up bringing another couple into the bedroom. Who's to say? At the very least you will embark upon a journey together that will leave you feeling closer and knowing exactly what you need out of a relationship to feel fully fulfilled. So what outlets can you use for your sexual/relationship-based fantasies?
A Chat Line!
Clearly, chat lines are a fantastic place to meet new people and start either sexual or dating relationships. It's possible to find a third party to join you two on your polyamorous journey too! We suggest experimenting with naughty chat line numbers, and starting with the chat lines that are geared more towards the risqué, or gay chat lines if that's more your vibe, as you'll likely find more people willing to experiment with you and your chat line partner.
Swinger Parties
If you want to fully immerse yourself into the world of non-monogamy, a swinger party is definitely the way to go. A great part about going to a swinger party is if you don't feel comfortable participating the first time around you can always just observe. Just like a class you don't want to commit to, you can sit in on a lecture to see if it's your jam or not. Just be prepared to see a lot of naked bodies and overt sexuality!
Apps
There are a plethora of couples on Tinder looking for their unicorn and there are plenty of unicorns looking for their couple. You really do get the best of both worlds – the masculine energy as well as the feminine energy. You get all of your needs taken care of. This way you get to learn more about your new someone prior to meeting in person, which is similar to the way you met your chat line lover, and look how that turned out?!
Bars
Meeting someone at a bar is a tried-and-true way to, at the very least, find a nice one-night-stand. Sure this may be a bit old school, but isn't chat line dating? Once again, didn't that turn out for the best?! Trust us, nowadays there are more people open to new sexual experiences and new-age relationships than not, so don't be timid! Get yourself out there, see a beautiful woman at the bar and offer to buy her a drink. If she is approached by both of you, she will understand what is going on. Just make sure to be gentle with her. It can be a bit off-putting being approached by two strangers, especially since we learned about stranger danger in elementary school. Let your girl lead and you can follow. This will most likely put her at ease.
Live Streaming Apps
If you are not ready to jump in but want to start by sticking your toe in the water to see how it feels, a live streaming app could be the perfect way to fulfill this fantasy. This is an especially good way to start for somebody who has some trust issues or is not sure that they want to physically touch/be touched by somebody other than their S.O.  This way you get to bring somebody else into your relationship while having a barrier as you explore this new side of yourself. If you end up liking the thrill that this brings and you feel okay with your partner being with somebody other than yourself, you could then meet up with this person when you feel emotionally and physically prepared to do so.
Remember, you need to fully trust your partner in order to make this style of a relationship work. More-so, you need to ensure that you are sitting down and talking about what you enjoyed, what you didn't enjoy and how everything made you feel so that you can ensure that you stay on the same page and aren't involved in something that upsets you and/or makes you uncomfortable. If you feel like you don't have the space to voice your concerns and opinions with your partner, maybe take your time to re-evaluate this type of relationship, (or any relationship with him/her for that matter!)