Unique Chat Line Conversation Topics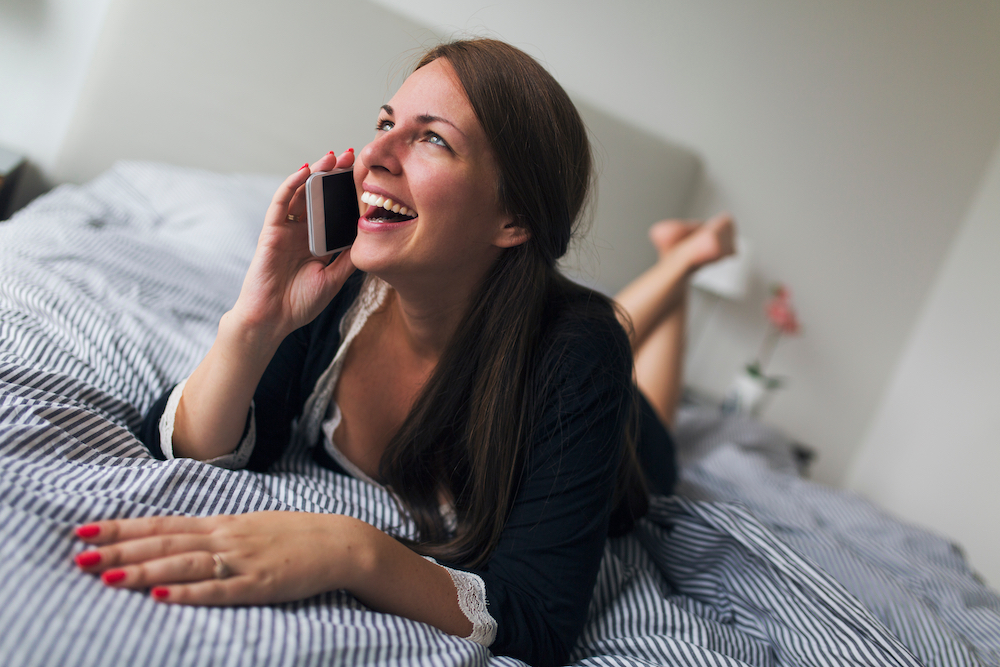 Chat lines are great, but they can get monotonous if you've been doing them for a while. You've likely got your flirt routine down at this point. You get on the phone and ask/are asked the same things over and over again. Maybe you start by asking your match how their day was, or get into what you did last weekend. Maybe from there it goes into what you do for a living. Soon enough, what should be a fun and exciting conversation has turned into what feels like a job interview… and that's just boring! You need to add some variety to the conversations if you really want to get the girl. Chat line talks are all about making your match think, have fun, and wish that they could kiss you right then and there. Isn't that the whole point of a chat line talk? You want to be that person's best part of their day, and you also want to have a good time. By moving the conversation into an interesting direction, you will actually inspire your match to make it equally as fun for you! Here are some unique talking points that you can use to steer the conversation in a unique and fun direction…
Travel-Related Chats
Talking about travel is so much fun. It turns the conversation into a mini-vacation! Plus, there are so many directions you could take when you bring up travel in the conversation. You can ask your match the last place they've traveled, where they wish they could travel to, or their favorite place to go. It informs you a lot about your date but also shows you whether or not they are well-traveled in the first place. If they aren't, or you aren't it's no biggie! Everyone has dreams and reasons as to why they want to go to certain places. If you do have great travel stories, you've given yourself a chance to go ahead and impress your date! Not to mention, the topic comes with a ton of awesome follow-up questions and ways to keep the conversation moving in a nice direction at an awesome pace. You won't ever run out of things to talk about when you bring up travel. And, you can have some fun by figuring out a potential trip the two of you could take together. It would just be a fun little hypothetical… don't go booking any plane tickets!
Here are some things you can ask:
Where's the last place you traveled?
What's your dream vacation?
What's your best travel story?
Hypotheticals
Hypothetical questions are fun 'what-ifs' that you can ask your date. If you start to bring in hypotheticals into the conversation, you should turn it into a little question game. You can ask your partner where they'd live in the world if they could live anywhere, or you can ask them what they'd do if they were queen for the day. It's fun to let your imagination run wild with your phone date partner. Chat lines are all about exercising that part of your brain in the first place. It can be fun to address hypotheticals in terms of how your first in-person date would go too. You can add some romance to the conversation this way, and create a cute little narrative for you and your date. That way, next time you chat, you'll have some inside jokes already established and a ton of great talking points to make sure the conversation continues to move!
Here are some things you can ask:
What would you do if you won the lottery?
What would you do as queen for a day?
Who are your fantasy dinner guests?
Childhood Memories
When chatting with a phone dating partner, it can feel like you're a teenager again. There's something really nostalgic and fun about talking on the phone with a crush. That's why bringing up childhood memories in the conversation is both appropriate and really fitting. People love to talk about themselves as children and get into what their family situation was like. It's a great way to learn a whole lot about a person. Based on the stories your date tells, you can gather a lot of information that you may need in the future. Plus, it's a great way for your date to get to know you as well! Conversations about childhood go one of two ways: They either come with a lot of silly laughter, or they get really deep and you find yourself connecting on a serious level with the phone date partner you're chatting with. Either way, it's a win for you! Also, if you do have children and you are afraid to bring it up to your chat line date, you can use this as an opportunity to put your date in the right kind of headspace to hear that kind of news.
Here are some things you can ask:
What was your first kiss like?
What was your childhood home like?
Where did you grow up?
Bucket List
Bucket list items are always fun to bring into a chat. It gives you a little insight into the person you're chatting with's hopes and dreams. Are they adventurous? Do they value travel, experiences, and fun? Figuring out what someone wants to do before they die is really telling, and somehow not at all morbid! Not to mention, if you've done any of the items on your gal's list (like skydiving or traveling around the world), you'll have given yourself a nice little way to impress her without coming off as totally cheesy! Plus, you and your chat line date can dream up ways for you to cross things off of your list together. If you and your chat line date have a lot of bucket list items in common, it's a good chance that you'll have a ton of serious chemistry as she clearly values the same things in life that you do!
There's really only one thing to ask…
What's on your bucket list?
Haven't found anyone you feel like you can connect with yet? Maybe you're not looking in the right spot! There are chat lines for all sorts of people, where you can have these deep conversations. There are urban chat lines, Christian chat lines, Latin chat lines, and so much more! Stop having boring conversations, and start chatting with the right lady.
(If you like this, you'll love Questions to Ask + Avoid While on a Chat Line Date)